How to Reset Password on Surface Pro 3
There is no denying that Microsoft Surface Pro 3 is a kind of excellent product. From its appearance to performance, design idea to peripheral products, Microsoft shows its sincerity to us. Therefore, you may want to buy such a useful computer in hand. Building your premise, what if you buy a Surface Pro 3 and create a password to protect personal privacy, but forget Surface Pro 3 power-on password by accident? Hey you can really see the solution as below. In this article, we are about to discuss how to reset password on Surface Pro 3 successfully.
Part 1: Reset Microsoft Account Password on Surface Pro 3
If you create a Microsoft account and use the account to login Surface Pro 3, but can't remember it as time goes by, you can reset the password via Microsoft account team or other tools that support to reset Microsoft account password.
How to reset Microsoft account login password via Microsoft password reset center? Here you can take advantage of Microsoft password reset link. The method is so simple to use. Just visit Microsoft official website, such as the Microsoft Windows Live or Microsoft forum, and then click the place that is able to login Microsoft account. There is a link that you can use to reset password of Microsoft account. Then you can click the password reset link and then begin to follow the instruction to reset Microsoft account password. The detailed procedures are:
Step1: Visit https://account.microsoft.com and then click the blue Sign in button. And then in the sign in interface, click the "forgot my password" link.

Step 2: Then you need to tell Microsoft why you can't sign in. According to your circumstance, here you need to click the "I forgot my password" selection. And then click the Next button.
Step 3: In the recover your account page, you need to enter your Microsoft account and then follow the instructions about what the characters you see to verify it. After that, click the Next button again.
In the next page you can just follow the prompt to reset Microsoft account password successfully. After that, use the new password to login Surface Pro 3 login password.
Part 2: Reset Local Account Password on Surface Pro 3
If the login password is not Microsoft account, but local account login password, then you can use the SmartKey Windows Password Recovery software without any doubt. This is a useful and professional tool that is able to remove or reset password of Windows user account login password. No matter what your Windows version is, no matter how complicated your password is, just one click to change Windows login password rapidly. You can see how to use it as below.
Step 1:Download this software from another accessible computer and then install it. Open this program by double clicks.
Step 2: Use a blank USB flash drive to burn it. Then take the USB to your locked computer.
Step 3: Reset BIOS setting of the locked PC and try to start it from USB.
Step 4: Restart the locked computer and then you will see the software interface. Just see the interface and choose the locked account to reset Windows login password instantly. After that, you can use the new password to login Windows account successfully. To get more details, you can reach to SmartKey's official website->>.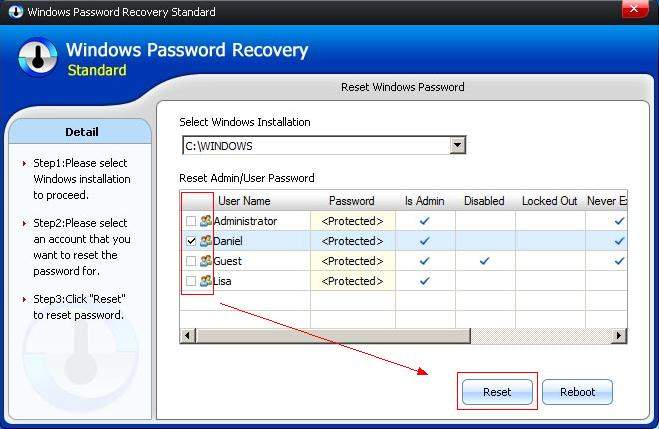 This page is under construction. The forum and Wiki are still up!
Share your thoughts, post a comment.