We all know it is a much worse for us to use a software in the case that lost product key. Now this problem for me is how to reinstall Microsoft Office 2013 with product key code in efficient way. The guide that I have followed are below.
Top 1: How to fix Office 2013 installation error
Method 1: The C: \ ProgramData \ Microsoft \ OfficeSoftwareProtectionPlatform folder delete enough.
Method 2: The use of administrative privileges to open the CMD, enter the following command to open the "Software Protection Service": net start sppsvc, and then re-run the office2013 installer.
Top 2: Uninstall the Office 2013
Step 1: Run –regedit– search all office 2013, office2010, office2007 registry keys, delete
Step 2: C disk search all office14, office2010, office2007-related files, folders, delete.
Step 3: The C: Program Data Microsoft Office Software Protection Platform folder deletion enough.
Finally, another installation package office2007 installation fails to solve the changes are rolled back!
Installation of office, it is best to uninstall the old office, and then use Google guards clean up garbage, and finally re-install process will solve the wrong problem office 2013!
Top 3: How to solve every time you open Office 2013 will be prompted to configure schedule
Office 2013 will be prompted to configure schedule (including Word, PPT, Excel and so on Office products have this phenomenon).
First display the "Setup is preparing the necessary documents," every time you open.
Then display case "Configuring Microsoft Office Professional Plus 2013" of. If restart over again open, or suggest configuration progress, how to deal with this problem then solve.
Option 1: Modify the registry startup configuration problem solving Office
Step 1: Ensure that your Office 2013 has been activated.
Step 2: Open the registry, type regedit in the Start menu search box and press Enter.
Step 4: To HKEY_CURRENT_USER \ Software \ Microsoft \ Office \ 15.0 \ Word \ Options, on the right to find NoRereg, right-modification. From 01 to the value, save and exit.
Step 5: If you do not find NoRereg registry, then create a new DWORD (32-bit) Value named NoRereg, then change the value data to 1.
Option 2: Run dialog box, enter the command to troubleshoot Office asked the startup configuration
Step 1: Press Win key + R key to bring up the Run box.
Step 2: Enter the following command in the Run dialog box, and then click OK to: reg add HKCU \ Software \ Microsoft \ Office \ 15.0 \ Word \ Options / v NoReReg / t REG_DWORD / d 1. That's all.
Top 4: How to reinstall Microsoft office 2013 with key code from using Product Key Recovery

Product Key Recovery is a powerful tool to help us find many software programs like Microsoft Windows, Office, Visual Studio, SQL Server, Internet Explorer and so on. Just with one click, you can recover your product key in any case.
Step 1: Download Product Key Recovery, and follow the guide to install and launch product key recovery on your computer.
Step 2: Then just click "Get Key", you can get Microsoft office 2013 product key in quickest way.
In just 2 simple steps, do you have mastered how to use this easy Product Key Recovery software?
In the end, hope that you have got how to reinstall Microsoft office 2013 with product key code in easy way.
This page is under construction. The forum and Wiki are still up!
When you install the Windows 10 on your PC, you will need to have access to an exclusive product key. This product key is able to verify your installation. With this product key, it will prevent the software from unauthorized use and copy. As long as you have bought any Windows version or new-built personal computer, you will surely have access to a Windows product key, which is used to verify whether your Windows is full version or not.
To be honest, in order to access Windows 10 product key, it is not so easy to do that. Just imagine that, if it is so easy to reinstall Windows system and get the product key, then everybody would reinstall it and then remove all the other things in the PC.
Method 1: Using Basic Scripts to Find Windows 10 Product Key
Get to the point, how to find Windows 10 product key when you can't know it? There is a method that is quite easy to find the product key of your Windows copy. Windows 10 product key is normally located in the registry, but get access to this information is not so easy. You need to access it by using basic scripts. The process is definitely not straightforward. We don't suggest this method. You can also search about it on the Internet as long as you like.
Method 2: Using COA Sticker
There is also another chance for you to get the product key. The key may not work because of "System Locked Pre-installation". In this case, you are going to look for the COA Sticker. This sticker is located on your computer outer body and it may be in anywhere. Consequently, you are about to find out everywhere from the computer. However, if the sticker is faded because of the PC is too old, then you can't find anything about the Windows 10 product key.

Method 3: Using Product Key Finder to find Windows 10 Product Key
Thankfully, there are also several third-party tools that are able to figure out the product keys. One of them is SmartKey Product Key Recovery. It is extraordinary easy to use and it is going to let you see all the software product keys in your Windows 10 system with just one click. This program is safe and you won't lose any data.
Step 1: Download and install this product key finder to your Windows 10 from HERE. And then launch the software.
Step 2: Just click the "Get Key" button and then the application will scan your installations and show all the product keys. The shown information includes the Product Name, License Key, Product ID and User.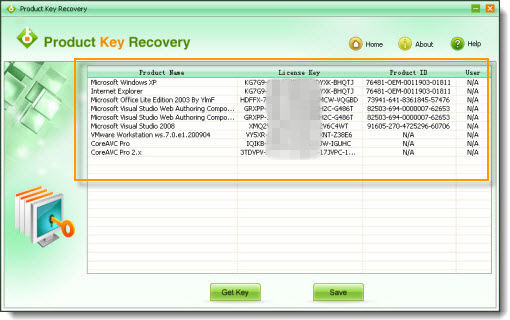 Step 3: Just find out your Windows 10 product key from the information and then select it, then click the "Save" button to save it to Windows 10.
Buy Ceclor
Have you ever lost your product key? When you lost the key, what measure you will take? Sometimes we may meet such problem, but it is not so fast to handle with it. Perhaps you have to search online and look for it. Perhaps you need to ask for several persons about the best solution. Take the Windows 10 update for an example, some Windows 10 users that install Microsoft Office lost product key by accident. In this incident, it seems that how to find Office product key in Windows 10 is the most urgent thing here. Consequently, you can learn the tricks about it in this article.
What to do when you lost Office product key in Windows 10?
In the past, it is hardly to find solution about it. But now we can use the SmartKey Product Key Recovery, the best product key finder, to find out lost Office product key. If you are curious about how to use it, you can continue to read it as below.
How to find Office product key in Windows 10?
In order to figure out the product key in Windows 10, you can use SmartKey Product Key Recovery to do that. The SmartKey Product Key Recovery software is designed to recover product key in Office, Windows or other license key. Here are the brief steps about how to do that.
Step 1: Download and install this office product key finder to the computer that lost the key.
Step 2: Double click the shortcut in the desktop and then open this software, you can see the whole user interface. Just click the "Get Key" button and then go to the next step.
Step 3: When you see all the product keys, click the "Save" button and then save them to your computer. You will find out your lost Office product key.
Buy generic Cialis Soft