What is ZIP?
The ZIP file format is a data compression and archive format. A ZIP file contains one or more files that have been compressed to reduce file size, or stored as-is. The ZIP file format permits a number of compression algorithms but as of 2009 the Deflate method continue to be dominant.
ZIP files generally use the file extensions ".zip" or ".ZIP" and the MIME media type application/zip, although the ZIP file format has also been used by many programs, usually under a different name. Examples of this usage are Java JAR files, Mozilla Firefox Add-ons (.xpi), id Software .pk3/.pk4 files, Activity Bundles (.xo) for the Sugar learning platform, Winamp and Windows Media Player skins, OpenDocument format and Office Open XML.

ZIP File Encryption
ZIP supports a simple password-based symmetric encryption system which is documented in the ZIP spec, and known to be seriously flawed. In particular it is vulnerable to known-plaintext attacks which are in some cases made worse by poor implementations of random number generators.
New features including new compression and encryption methods have been documented in the .ZIP File Format Specification since version 5.2. A WinZip-developed AES-based standard is used also by 7-Zip, XCeed, and DotNetZip, but some vendors use other formats. PKWARE SecureZIP also supports RC2, RC4, and DES, 3DES encryption methods, Digital Certificate-based encryption and authentication, and archive header encryption.
ZIP File Decryption
ZIP Password recovery 5.0 is an easy and effective utility, designed to recover lost or forgotten passwords for ZIP/PKZip/WinZip archives. The program supports the customizable brute-force attack, effectively optimized for speed dictionary-based attack, and very fast and effective known-plaintext attack. It not only supports strong WinZip encryption (AES), but also multilingual user interface.


Features:
1.    Support all versions of WinZip/ZIP archives
2.     Recover long passwords
3.    Brute-Force, Known Plaintext and Dictionary attacks are used to recover the password.
4.    Advanced 128-bit and 256-bit AES Encryption is supported.
5.    Additional user dictionaries support, case changes, multiple mistypes and other modifications for each dictionary word.
6.    Patterns can be used to minimize search time if any part of the password is known.
7.    Program automatically saves password search state and can resume after a stop or a crash
8.    Self-Extracting Zip Files (SFX) are supported
9.    Auto shutdown the computer after recovering
How to Use?
Step1: Click "File>Open" in the Menu or the "Open" button to browse the WinZIP/ZIP file in.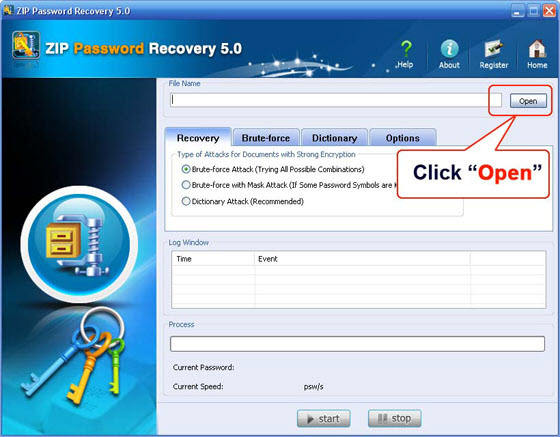 Select your file in the Open File window, and click "Open".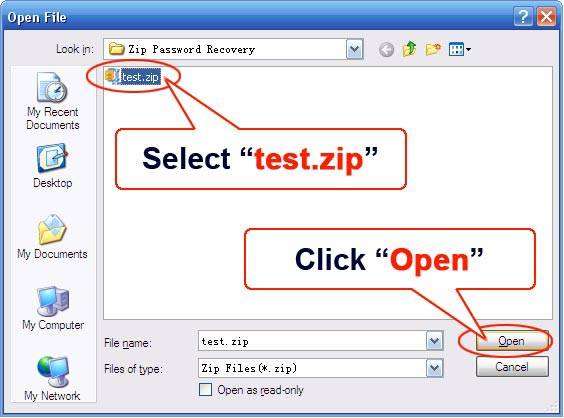 Step2: Select "Brute-force Attack (Trying All Possible Combinations)".



Step3: Click "Start" button to initiate the program.



Step4: The program is processing for the password. Sometime later, a message box pops up to you, displaying the expected password. Click "OK".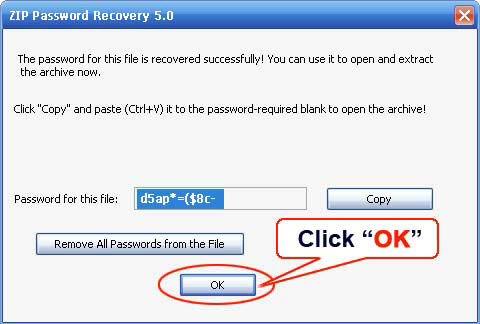 Note:
ZIP Password Recovery 5.0 can be downloaded on it official website. By the way, there is a tool there called Password Recovery Bundle which can not only recover ZIP Password, but also other programs that can recover windows password, office password as well as rar password.
generic
viagra order online